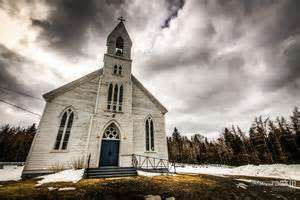 Like basically every night in college–it was late, but none of us felt like going to bed. We were hanging out after a work meeting, and since a lot of us were studying to go into the ministry, the topic of church planting came up. I'll never forget what one of the popular guys on campus said, with excitement and ambition in his voice, "There are these suburbs on the West Coast that are just exploding. If you plant a church in a place like that, you are set!" Everyone nodded in approval. Apparently that's the way to go. Although it was a long time ago, and I know it was just a bunch of college guys chatting one night, I wonder sometimes if that's still the sentiment about church growth. Find an area with a wealthy, growing population, and plant a church there.
Churches in America don't seem to be growing in poor neighborhoods. When money leaves a neighborhood, too often the churches aren't far behind. Not only that, there seems to be very little interest and excitement in starting new churches in poor areas. Rural and suburban poverty are often overlooked.  As a pastor of a church in a low-income area, I've spent a lot of time wondering about that. Maybe you have, too. We all believe that the gospel of Jesus Christ isn't just for the comfortably wealthy and the well-educated. None of us want to see Christianity pigeonholed as something that's just for the middle class.
I'm starting a series on my blog today to list some reasons why churches aren't growing in low-income areas. I'm no expert on trends in the church.  I'm just writing from what I can see from where I'm sitting. Maybe I'm wrong and there are a lot of churches growing in poor places. Maybe you know of many rural churches that are growing by leaps and bounds as they reach the poor in their county. Maybe you know of several suburban churches that are successfully reaching growing pockets of poverty in their area and that are incorporating the poor into the life of their body. Maybe there are a bunch of churches reaching the high crime, low-income communities in the inner city. But I don't think so. Here are my four reasons why the church isn't growing in poor neighborhoods:
1. Oversimplifying Poverty.
In 1989, 1 out of every 6 children born in Philadelphia came from mothers who tested positive for crack cocaine. Researchers set out to prove the popular sentiment that these "crack babies" would grow up with serious problems. Everyone assumed that exposure to cocaine in the uterus would impair brain function and impede healthy growth over the life of the child. Researchers chose 224 babies between 1989 and 1992 to track into adulthood in order to study the long term effects of cocaine. Half the babies were exposed to cocaine in utero and the other half was the control group. All were from low income homes.
The conclusion from the study was surprising. The babies exposed to cocaine in the womb showed no long term effects in physical development or brain function. What did surprise the researchers was the effect of poverty on the children. "81 percent of the children had seen someone arrested; 74 percent had heard gunshots; 35 percent had seen someone get shot; and 19 percent had seen a dead body outside – and the kids were only 7 years old at the time."  At the end of the study the lead researcher concluded, "Poverty is a more powerful influence on the outcome of inner-city children than gestational exposure to cocaine." (Quotes and information in the previous two paragraphs come from this July 22nd, 2013 article from the Inquirer)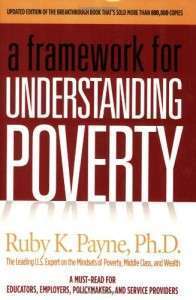 This study proves the point that poverty is a deeper issue than just the amount of money in a person's bank account. Middle-class Christianity keeps missing this point: poverty isn't just the absence of money. It's better to look at poverty as a culture. It's a different way of life with different values, experiences, and resources. Ruby Payne, a highly touted consultant in the education field, has a fascinating breakdown on the differences between poverty, middle class, and wealthy cultures. She says, for example, that poverty focuses on the quantity of food while middle class emphasizes the quality of food. Her chart lists the differences between poverty and middle class thinking when it comes to time, money, relationships, language etc.  (The chart is published in Payne's book "A Framework for Understanding Poverty" which is a must read for anyone working with the poor.)
Churches are never going to reach low-income neighborhoods until they see poverty as a culture. We can't oversimplify people and expect to reach them.  I know that I'm not saying anything new here. I'm pretty sure everyone would agree that there's a cultural jump between middle-class and poor neighborhoods. But I think there are many ways that we pay lip service to the fact that ministry in poor neighborhoods is cross-cultural but, in practice, in everyday ministry, we forget.
First, if ministry in poor neighborhoods is cross-cultural, it gives us a decent road map on how to approach the neighborhood. There are plenty of great books about how to do cross-cultural ministry. We send missionaries overseas to do it all the time.
Second, understanding that you're doing cross-cultural ministry gives us humility and patience.  It keeps us from oversimplifying people's problems in poor neighborhoods and slapping ill-conceived, half-baked solutions onto serious issues. Cross cultural ministry places us in the posture of learners.
Third, cross-cultural ministry helps us to see the value of the image of God in people that are different from us. In other words, poverty culture has strengths that we can learn from.  The American middle class has no category for this because we've been trained to pity and shun the poor while inwardly nursing our resentment that they're getting stuff for free. But if poverty is just a different culture, it means that there are some things about their world that are just different from ours, and that gives us a chance to celebrate diversity. The truth is that the poor have some cultural strengths that middle-class Christians can learn from. Look at Ruby Payne's chart of the cultural differences between the middle class and poverty, and you'll see what I mean. Poverty's emphasis on relationships, enduring hardship, and generosity are opportunities for the middle class to grow. This lack of economic diversity is hurting the church in America.
Fourth, viewing poverty as cross-cultural ministry opens up the mission field to include the poor here at home.  It keeps us from the missiological schizophrenia where we applaud cross-cultural ministry done overseas and ignore cross-cultural ministry in our own back yard. It makes no sense for the church to spend thousands of dollars to send a missionary to Mexico, and then never even dream about reaching the Mexicans who live only a few minutes away in the same town. We send our teenagers on mission trips overseas to do cross-cultural ministry with the poor and can't wait to hear the stories when they get back, but we have no stories and no concept of doing cross-cultural ministry with the poor that live right here in our country. We expect the missionaries we send overseas to make cultural adaptations, but we refuse to make any here at home.
And last, cross cultural-ministry keeps us from viewing ministry in poor neighborhoods as super-duper, extra special work that only a few people can do. If ministry in poor neighborhoods is just ministry to a different culture, then any Christian with a passion for God's glory and a love for people can do it. The first step to de-specializing ministry to the poor is to stop over-simplifying poverty.
Tomorrow, Reason #2: Christian's Aren't Staying